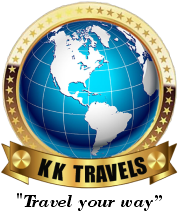 Very efficient and loyal. Had taken his service for the first time and was impressed though we didn't meet my work was done super quick.
Sumaiya Hamdani
2022-05-13
Amazing service by Raj from KK travels who helped us for making our trip to Ratnagiri successful. We were in bad situation where our train tickets were not confirmed. So when we contacted KK Travels for trains tickets, Raj tried his best for Tatkal tickets. Even though we were unable to get tatkal tickets, he helped us with a vehicle at the best rate in very short notice. Superb service from start to end and providing end to end solution. 👏👏
Excellent service 👍👍
Yogeshvanshi Kumar Gupta
2022-04-13
Rajiv has been a great support in getting my train tickets. Great followup, trustworthy and genuine service provider. I definitely recommend him.
Inspira Biopharm
2022-04-09
Kalpana Waravadekar
2022-04-09
pratima talekar
2022-04-05
natalia Saraswati
2022-04-05
Спасибо большое KK Travels, я покупала билет онлайн и мне даже не пришлось ехать в агенство, где была большая наценка! Я советую пользоваться услугами этой компании! Все очень удобно, честно и дёшево ! Спасибо большое за ваш сервис!
Mamata ajwelkar
2022-03-17
Best service